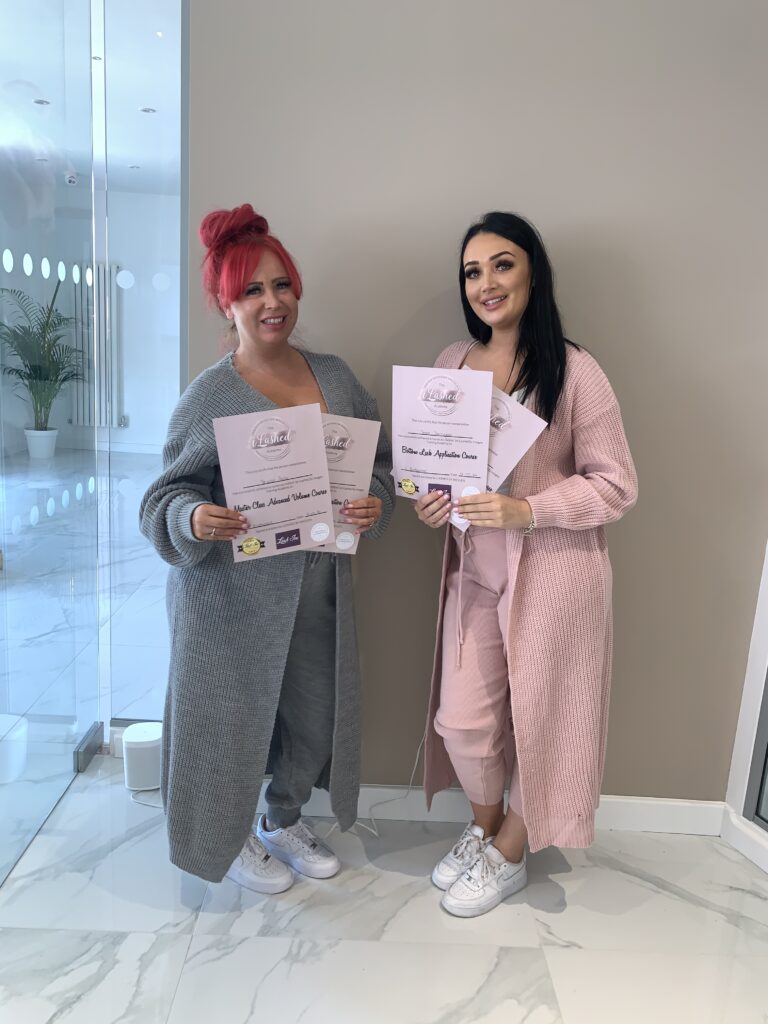 Exclusive Accredited Training Days with Imogen the founder and creator of iLashed by Imogen
Nowhere else offers in-depth training with such small class sizes of 2-4 students per class, therefore, giving you that intensive one to one support. Training courses are held every week and light lunch plus refreshments are provided on the day (if you have any special dietary requirements please let me know upon booking).
Have you been considering a career change or do you just want to expand your lashing skills? Do you want to offer the most in-demand luxury individual eyelash services in the lash industry? Are you ready to take your lash Career to the most advanced level? Eyelash Technicians work their own hours making Women feel beautiful every single day and it's a very profitable industry and one of the fastest-growing industries in the UK. It can give you the flexibility to work your own hours from home or grow your business as big as you want. Some people run highly profitable home salons, franchise businesses, wholesale businesses, award-winning salons, become leading industry trainers or just casually work around their family and simply enjoy the extra money.
We have three different courses for you to choose from depending on your previous experience and knowledge.
ILASHEDBYIMOGEN OFFERS THREE DIFFERENT TRAINING DAYS
For the BEGINNERS – There is the Classic 1:1 application course, this is a one day intensive practical and theory-based training day.
For the ADVANCED – There is the Russian Volume course, to attend this course you must already be qualified in Classics. This is a one day intensive practical and theory-based training day.
For the HIGHLY EXPERIENCED – There is the Masterclass for those who have already trained in both Classics and Russians. During this course, you will be taught different styles for advanced lashing. You will be shown how to create choppy textured lashes, Hybrids and Vegas Wispys (please note I will not be offering Vegas Wispys training to those based in Lancashire and the surrounding areas). This will be a one day intensive practical and theory-based training day.
You can choose to book either a group course which has a small intimate class size of 2-4 students or you can book a 1-2-1 course if you prefer to not work in a group.
Please ensure you book on to the relevant course based on your previous experience.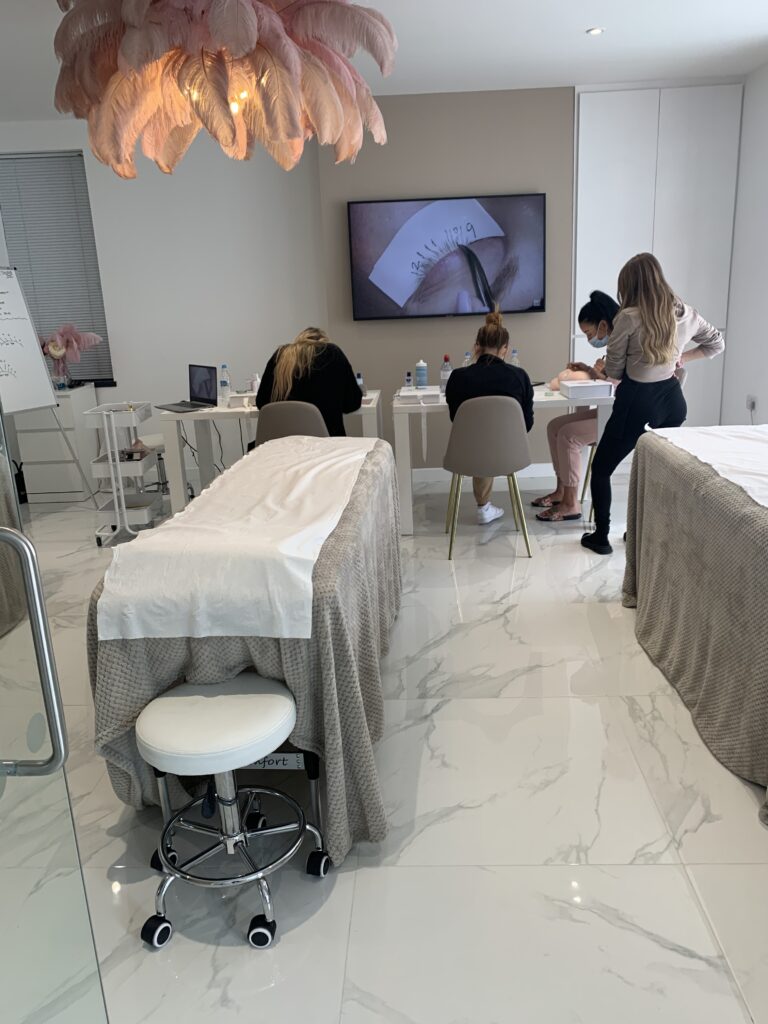 I will be showing you all my secret techniques on how to create the best fluffy lashes as well as advice and tips on how to run your own business. Once you have completed the course you will then receive your certificates.
However, if I feel you need more practice you will be asked to complete some case studies before receiving your certificate. All courses are fully accredited by Lash Inc, meaning once you have completed your training course you will be fully qualified in lashes and will be recognised by insurance companies. It is important your training provider has a Teacher Training qualification and is accredited themselves.
All Courses Come With An Accredited Individual/Russian/Masterclass and Bottom Certificate

Are you ready to take your lash career to the most advanced level? Learn the ILASHEDBYIMOGEN lash style.
Learn how to create Mega Volume or Classic lashes, the same way ilashedbyimogen creates them. Nowhere else offers in-depth training with small classes of 2-4 students. All hints and tips that are used by ilashedbyimogen to create the perfect set and fans. All training courses include our exclusive bottom lash training which is a great add on to all your lash sets and makes you stand out from the crowd.
Course Outline
Step guided training manual to take home
Correct pad application
Classic application
Volume application
Building your lash structure
Working with straight and curly lashes
Perfect isolation
ilashedbyimogen signature styling
Application, distance and direction
How to price your sets
How to do safe removal of lashes
Eye anatomy
Correct application
How to infill
How to hold your tweezers
How to use your volume tweezers
How your tweezers work
How to maintain a professional image
Correct fan placement
Aftercare
Health and safety
Full product knowledge
How to prep clients lashes before treatment
Lash mapping ilashedbyimogen style
Choosing length and style
Bottom application
How to create full and fluffy lashes
Perfect lash wrap
Different volume pick up techniques
Correct glue dipping
Course Details
Course Length: 1 day intensive practical and theory training
Course Duration: 9:30-4:30
Course Location: The iLashed Academy, 465-467 Blackpool Road, Preston, PR2 2LW
Course Price: £400-£500 including kit, manual & accredited certificate
After Your Training
It is very important to practice even after your training course. To become a successful eyelash technician it takes weeks and months practising your skills. Remember to be patient with yourself and do not give up!
I recommend 8-12 weeks after completing the beginners Classic course and practising daily you should have gained enough confidence to then attend your Russian volume course and move onto some advanced techniques. Unlike other training providers, I will always endeavour to help and support all my students after they have completed their course with any questions they may have!